Paxton Greens
Christmas Trees | Wreaths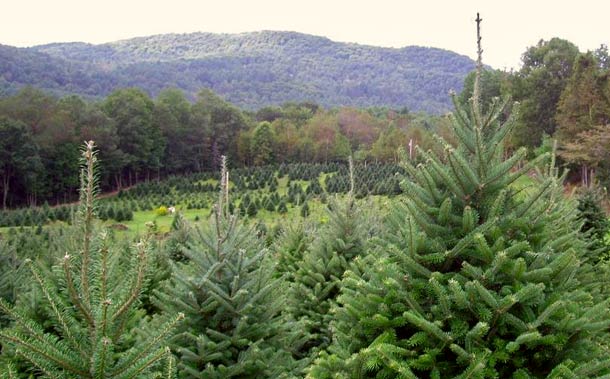 Wreaths
Our wreaths are made locally, and large ones on-site with our own Fraser fir brush. Donna makes all the bows and decorates every wreath. With some advance notice we can craft wreaths to your individual wishes - call or email. We always have a good supply of 12-inch and 16-inch wreaths, the most popular sizes. We can make 24" (shown in the photo), 36", and 48" for a bold holiday look on your barn or business. We ship 12" wreaths (22" outside diameter) by Fedex ground anywhere in the lower 48.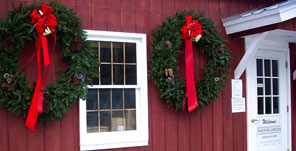 Paxton Greens is a family-run Christmas tree farm in Cuttingsville (Shrewsbury), Vermont. We welcome visitors and families to select and cut their own Christmas tree, or select the tree and we will cut it for you. For those who shy away from the do-it-yourself experience, we always have some pre-cut trees available.
Our trees are primarily Fraser and Balsam fir, but we also have some gorgeous white pine. Our Christmas shop always has a good selection of freshly-made wreaths, top quality tree stands, a warm wood stove, and hot mulled cider. This year our new building has allowed us to add some great gift items. We continue to have live trees which you can plant after Christmas.
We supply hand saws (NO chain saws, please), tractor and trailer, sleds, and free netting of your tree.
Hours of operation are 10 am to dark, Fri thru Sunday, [not open Mon - Thurs] Thanksgiving until December 18. Choose- and- cut trees start at $40.00, pre-cut trees start at bargain prices.
Directions: Cuttingsville is on Route 103 between Ludlow and Rutland. From 103 turn onto Town Hill Road, go 1/2 mile (over the railroad tracks), take first left onto Stewart Lane. Telephone: we are not listed under Paxton Greens - see Reay Russell & Donna 492-3323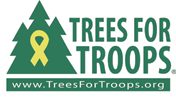 We support Trees For Troops
Russell and Donna Reay
97 Stewart Lane
Cuttingsville, VT 05738
802/ 492-3323