Yankee Gardener Greenhouses and Nursery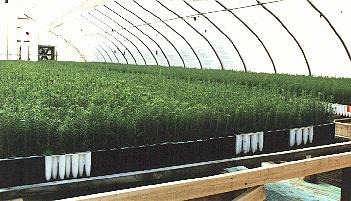 We sell containerized seedlings and tranplants: Fraser Fir, Balsam Fir, White Pine and Colorado Blue Spruce.
We also bag seedlings individually for wedding favors, Arbor Day, business openings or any business promotional plans.
We hope you will contact us if your plans call for planting just a few trees or thousands. Call, fax, e-mail or write for prices.
Yankee Gardener Greenhouses and Nursery
132 Smutty Hollow Road
Monroe, NH 03771-3006
e-mail: yankyggh@fcgnetworks.net
phone: 603-638-2809
fax: 603-638-2809